Products
limited Products

We are always working on limited, special release projects that keep our creative juices flowing. Please visit our distillery directly for these products.
Whiskey
Corn Whiskey

In the world of whiskey, the term "straight" is an age statement referring to a liquor which has aged in a barrel for a minimum of 2 years. Outlaw Distillery's Straight Corn Whiskey is aged in used bourbon barrels for at least 3 years.

Our Straight Corn Whiskey is made from 100% Utah-sourced corn. In conversations with our farm partners, we recognized that they had worked extremely hard to produce high-quality corn, which led us to get corn exclusively from them. With nothing else added before or during production, this whiskey is about as pure, simple, and enjoyable as you can imagine.

Straight corn whiskey opens with traditional whiskey flavors, with a mild twist of flavor reminiscent of a classic Irish whiskey. With a mellow, semi-sweet finish, our straight corn whiskey will leave you with savory, buttery hints of corn on the cob.

We recommend this whiskey be served neat to best experience the flavor.


3+ years in a used charred oak barrel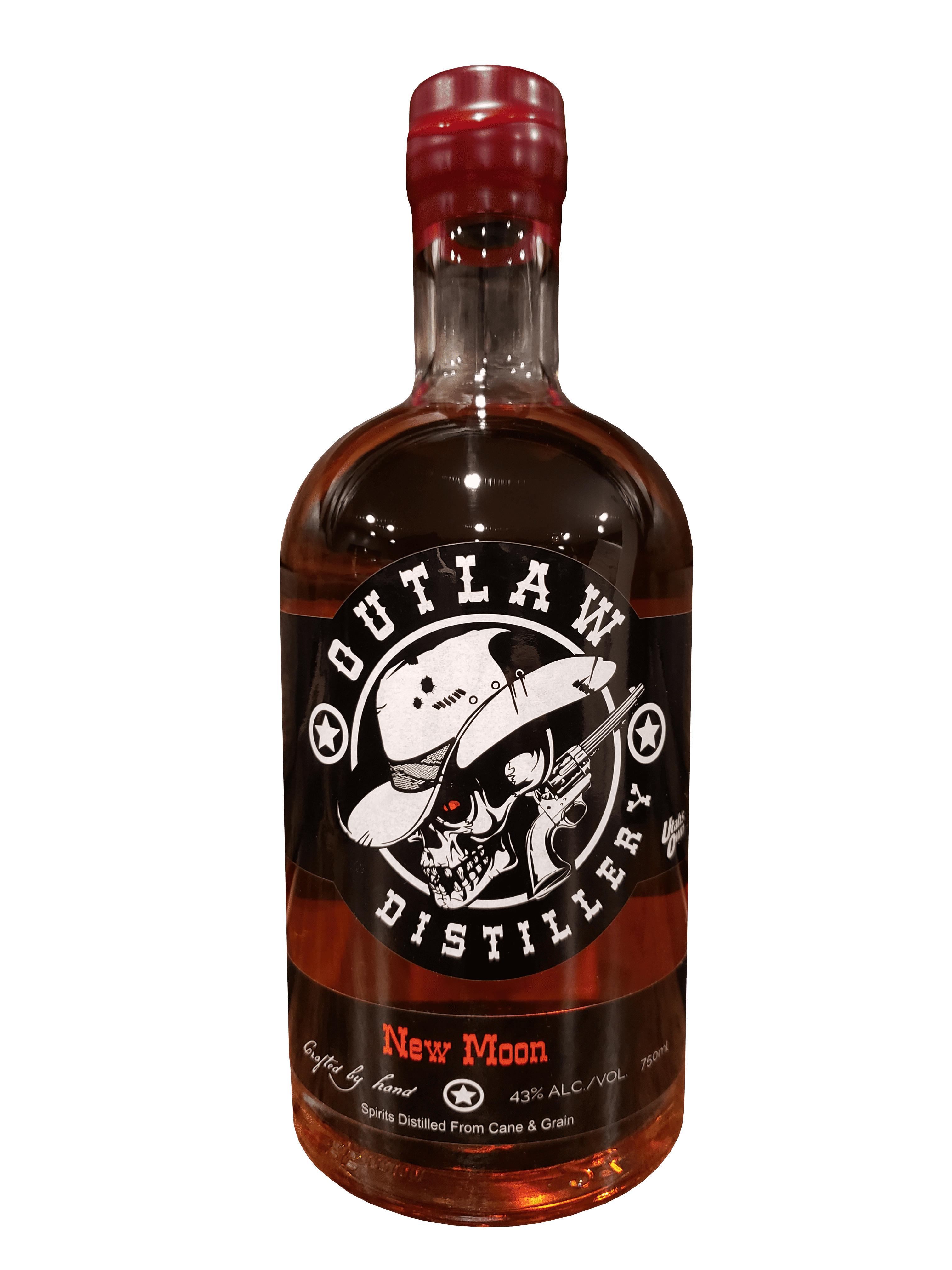 Moonshine
New Moon

As a result of the overwhelmingly positive reaction we received from our Moonshine, we decided to do one better.

Outlaw Distillery's New Moon is an aged version of our Moonshine product. As you may recall, our moonshine is a perfect hybrid of whiskey and rum. New Moon is the same liquor but has been aged in a used bourbon barrel for approximately 3 years.

Over the course of aging, the barrel interacts with the liquor to impart smooth caramel and vanilla notes rounding out this product to a much more traditional whiskey flavor. However, since this product is distilled from grain and premium molasses, you are left with a creamy, butter finish resulting in a truly one-of-a-kind flavor profile.

New Moon is a delicious hybrid product that can be served in all of your traditional recipes and/or sipped neat at room temperature to bring out the great diversity of flavors.


3 years – used Bourbon Barrel